The branding settings page allows you and your web developer to implement custom styling to override the Career Portal default styles. It also allows you to add copy to various parts of the Career Portal and override default SEO metadata for your jobs. Please refer to the Help Center (helpme.haleymarketing.com) for more information.
Search Form Message - Message to display above the search form
Search Results Message - Message to display above the search results
Job Posting Footer Text - Message to display in the footer are for every job.

Career Portal Custom Styles - Change the colors of buttons and add custom CSS.
Use the color picker to choose a primary color and a secondary color:

The "Primary Color" will be the color used for links and the primary button background.
The "Secondary Color" will be used as the hover color on links and buttons.
The "Body Background Color" will be used as the background color for the Career Portal container.

Check the preview button image to make sure you are happy with your selections.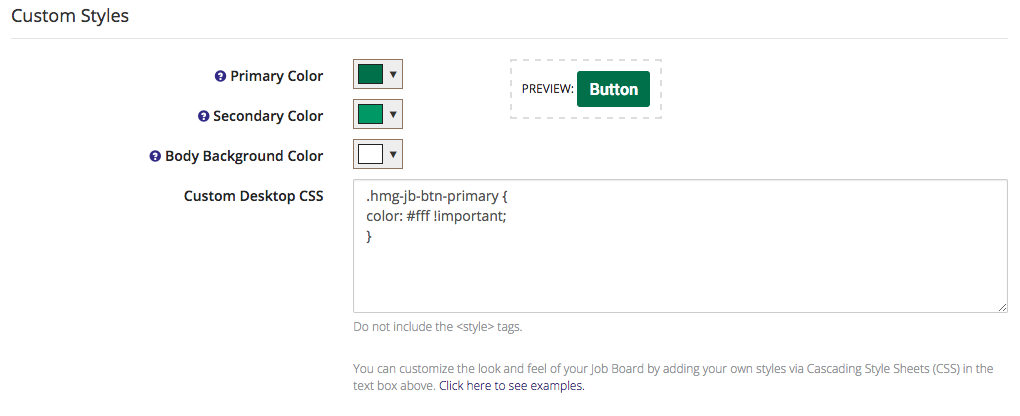 You can also customize the look and feel of your Career Portal by adding your own styles via Cascading Style Sheets (CSS) in the text box in this section of myHaley. Click here to see examples.
SEO Titles and Meta
The SEO information for each job is now modifiable and can be accessed through myHaley.
You can view the variables on right side of the screen to see what options you have for inserting into the SEO Title & Meta Description areas.
The title and description can be rewritten using the available variables to create a new SEO title and description. A preview of what is entered will appear below the description box, to help show your candidates and clients will see.
NOTE: Changing titles and metas could affect your search engine performance.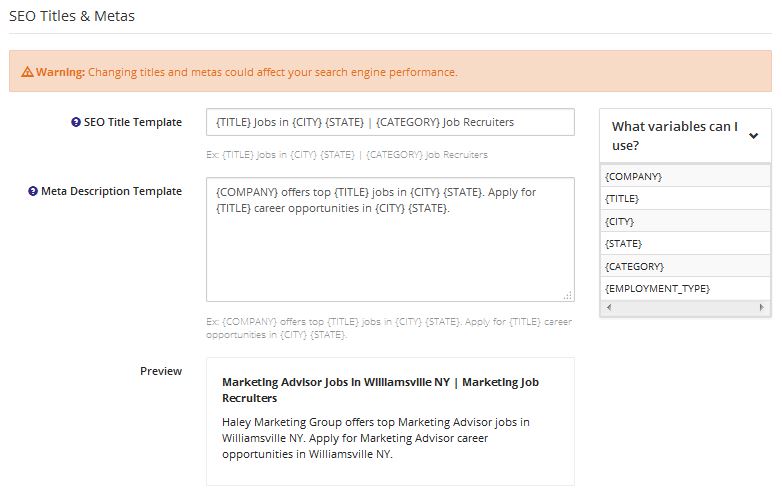 Career Portal Email Template: The template your emails are sent on is customizable here. If you would like Haley Marketing to create a custom template, please request this at support@haleymarketing.com. Customization is billable at the rates in effect at the time of service.