Managing Team Members
To add team members that will display in the Team Member plugin on your WordPress website, you can now add them in MyHaley!
Note, to add users to MyHaley so they can manage the job board, Talent Showcase, or HaleyMail, you will need to add them in Admin->Manage Users. Please read this article for more information.
Once you are logged into MyHaley, go to the Team Members section on the left hand side, and you will see the Team Member dashboard: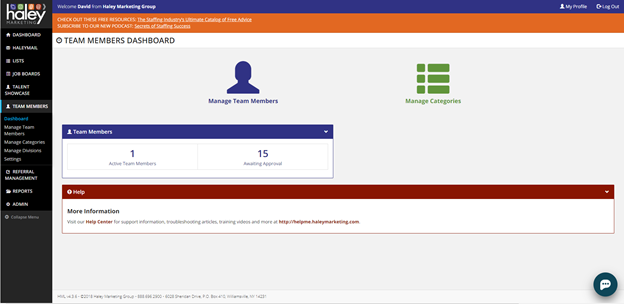 You will see four options on the left-hand side:
Manage Team Members: this is where you will see all your entries, both published and drafts. From here you can edit a specific user.

Manage Categories: this is where you can edit your categories for your team members.
Manage Divisions: this is where you can add divisions to sort your team members.
Settings: here is where you can customize the labels for Category and Division. They are automatically set to say Category and Division, if there are terms that better suit your organization, this is where you can change it.
Add New Team Members:
To add a new Team Member, you will go to Manage Team Members, Add New.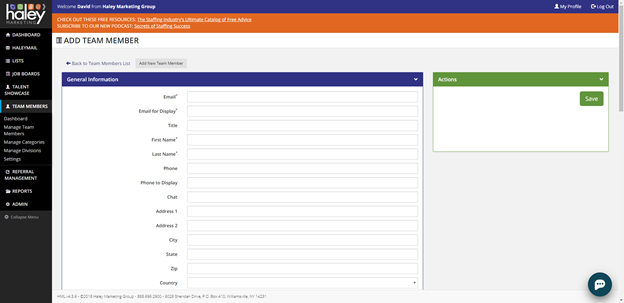 You will need to fill out all the required fields for your team member, and any optional fields you want to include.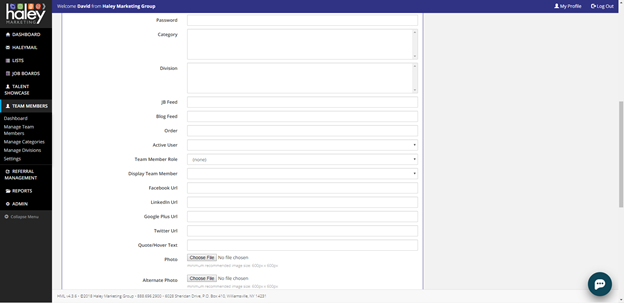 This screen has more optional fields you can enter for your team member, including their Category, Division, role, and social media links. You can also set their profile image, which has a recommended size of 600px x 600 px.
Finally, at the bottom, you have the option to enter a bio and an excerpt that will appear in their Team Member preview: