Your myHaley job board dashboard can tell you a lot about how your job board is working, and can give you easy access to many useful features.
Jobs section
Active Jobs: the number of jobs that are currently posted on your job board.
Expired Jobs: the number of job posts that are no longer being displayed on your job board but are available to manage or re-post.
Information section
Job Board URL: the web address of your job board, which should be linked from your website.
RSS Job Feed: This is a link for an RSS feed of your job openings.  An RSS feed is intended to be used with an RSS reader (the link may not make sense if you try to open it in a web browser). Candidates can subscribe to your jobs RSS feed , and the RSS feed can also be used to feed your job posts to social media sites, etc.  The RSS feed is only available with the Social Media Recruiting Package.
XML Job Feed: This link is intended to be used to feed your job posts to social media sites, job aggregators and boards, etc.  The XML Feed is only available with the Social Media Recruiting Package. If you do not see an XML feed on your dashboard, contact Haley Marketing to have this enabled.
Job Board News section
Keep up to date with the Haley Marketing blog - right from your myHaley dashboard!
Statistics section
This section displays your Top Performing Jobs, Sources and Registrations, Applications, and Subscriptions information.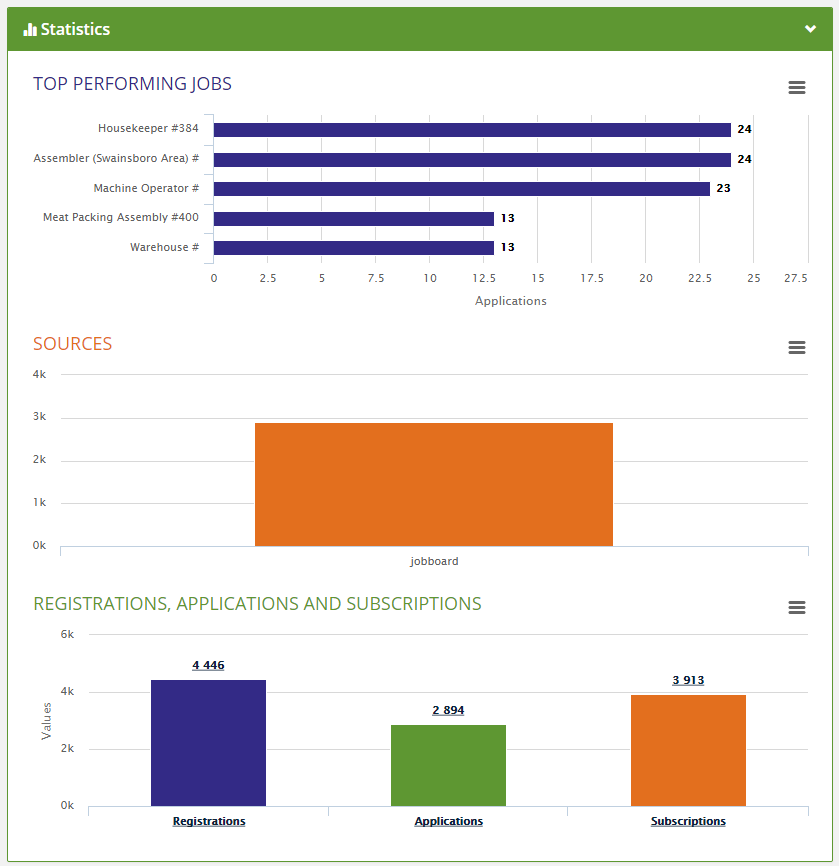 Top Performing Jobs will show you the top five jobs with the most applications received. 
Sources will show you where the candidates came from when applying to a job. 
Registrations, Applications and Subscriptions will show you raw data for how many of each you have received, over the entire life of your job board.  You can click on each of these three bars to see statistics for this week and this month.  This week is the last 7 days - this month is MTD from the 1st.
Registrations are submissions from the Signup Form on your job board. These are used by candidates to save searches and use the job agent feature.
Subscriptions are the subset of registrations that checked the "Send me Job Updates!" on that sign up form, giving you permission to send additional marketing emails.
You can also click on the three dashes to the top right of each graph to print the chart or download a specific file type of that chart (PNG, JPEG, PDF, etc). 
You can also go to the Manage Jobs section of the Job Boards.  By selecting a job and viewing the bottom "Applicants" tab, you can see how many people have applied for that specific job.  You can see the source here as well, to see how candidates found this specific job (job board, job aggregate site, etc). 

Within a specific job, you can also see the applications over time and the overall sources for this job under the "Performance" tab.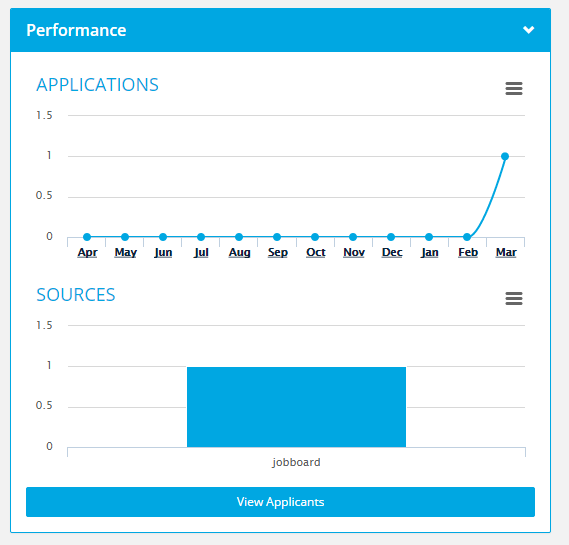 Applicant Sources
This section will give you an idea of how people find your job board. The sources shown come from one of two places - either the answer to the question on the sign up/job board application or from the actual referral source (from syndication of your jobs on third party job aggregators like Simply Hired, Indeed, etc.):

Just be aware, on your sign up/application, there is an "Other" choice, and whatever your candidate types into that field will display in the sources. The values for this question are customizable - please click here to find out how.
Click on "Syndication" to see a breakdown of job aggregator site sources.
Help section
Find links to useful resources and more information.