Category Mailings are email notifications that can be sent automatically to your candidates who have created an account on your job board, and given you permission to email. Using this feature used to require the ability to mark jobs as featured, but can now be used for mailing any new jobs to candidates who have signed up for a specific category of jobs. Category Mailings require the sign up option to be displayed on your job board.
You can set up mailings for each category/industry you have on your job board. People are added to your mailings lists for each category as a result of a question on the registration/Haley Marketing Application here:

For a mailing to be sent, you must have mailings for that category enabled, whether "New Jobs Marked Featured" or "Any New Job Posting". These mailings may be scheduled weekly, or sent "now".
To feature jobs (for client posting through myHaley):
https://haleymarketing.zendesk.com/hc/en-us/articles/204060489-5-7-How-Can-I-Feature-Jobs-and-What-Does-It-Do-
For integrated clients, please contact success@haleymarketing.com to find out if you can mark jobs as featured using your applicant tracking system.
To schedule mailings: Choose the "Manage Categories" link from within the "Job Boards" section of myHaley.haleymarketing.com and add or choose a category.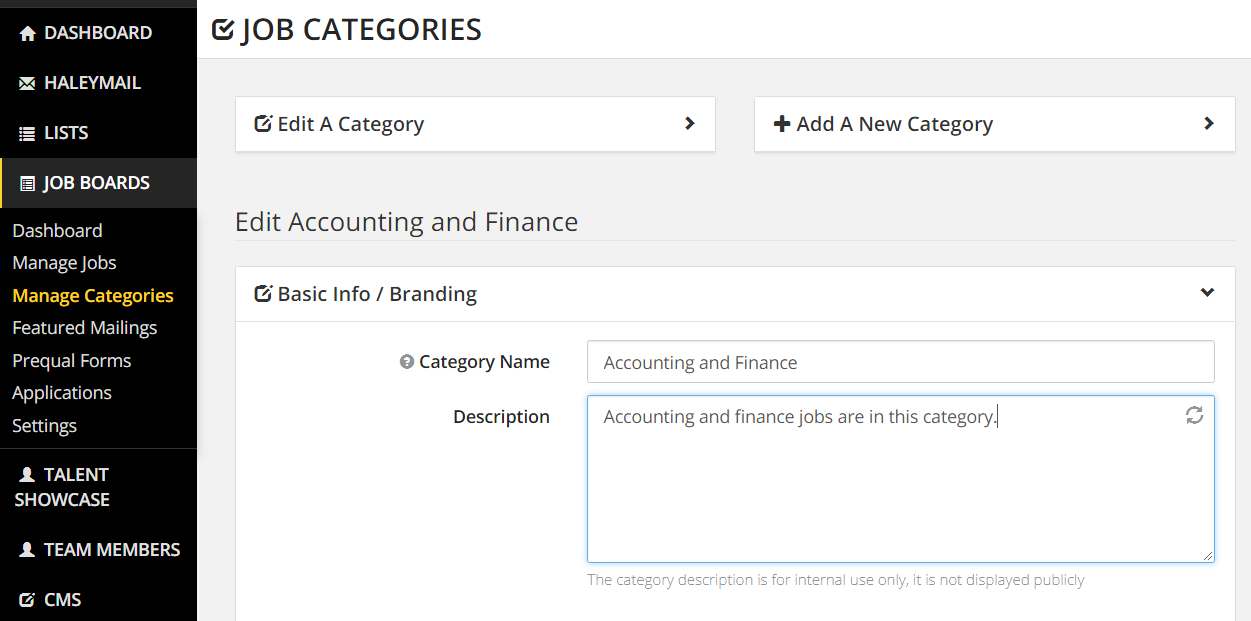 Follow the rest of the instructions in the Manage Categories section here.
Category Mailings Default Email Template
Click on "Edit Default Email Template" to edit the default template on which your mailings will be based. To edit an email template for a specific category of mailings, go to Manage Categories and choose your category.
Category Mailings Reporting (New Feature)
See how your featured mailings were last sent, including new stats on how they performed, including bounces, deliveries, views and percentages, and clicks and percentages. Also includes the ability to export this data.